28 top question/tips to choose the best web hosting in 2020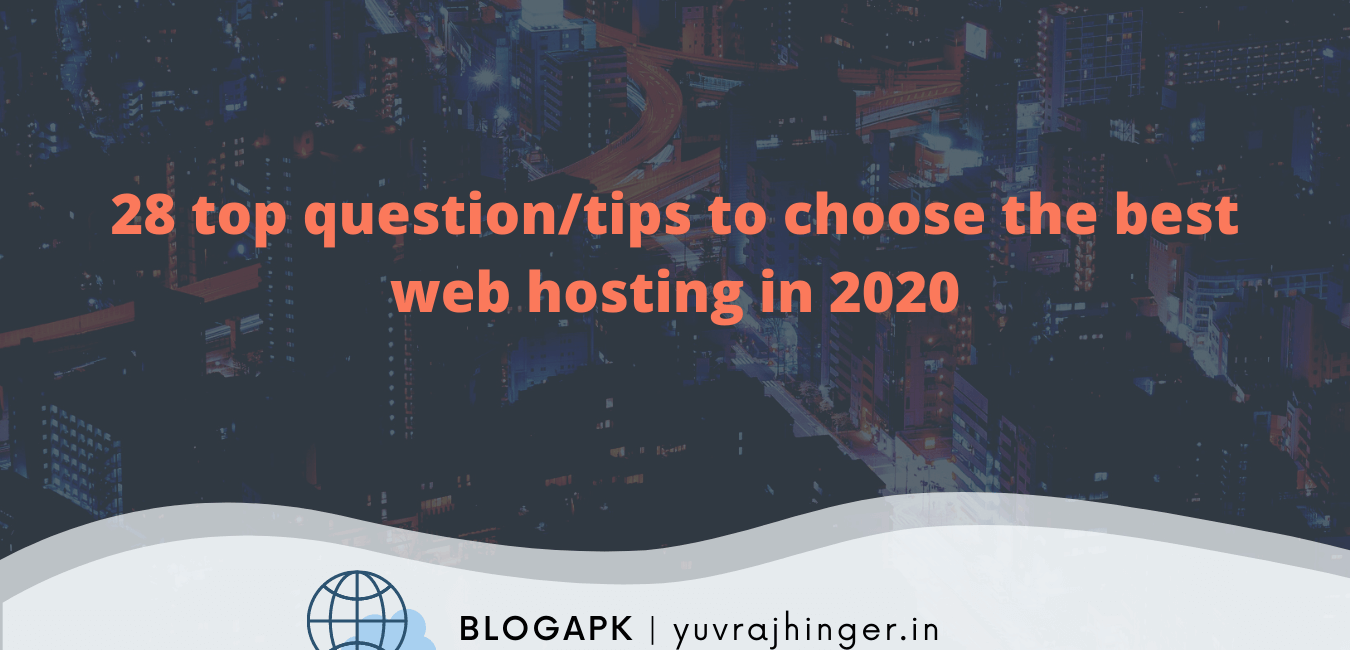 ---
Share
---
Introduction
In this article you will find 28 questions, tips and tricks that will help you to choose the best web hosting company for your needs.
Tips to choose the best web hosting
28 Top Question/Tips/Tricks to Choose the Best Web Hosting. It can be a hard decision to choose a good and a reliable hosting provider for your new website I will present you 28 questions, tips and tricks that will help you to choose the best web hosting company for your needs.
1.) Ask yourself what kind of site you will create.
If you are planning to start a blog or a site that is associated with a newly created company then your needs are limited.
On the other hand if you are an established company, you are planning to spend a lot of money for ads or you are celebrity then you need to go for more expensive solutions.
In that case you probably expect a huge flow of traffic. Will your site include a lot of photos, products, graphics or videos?
Consider that these elements demand more resources so probably you will need to choose some higher hosting plan.
2.) How will you build your website?
Will you assign it to some web design firm or will you use some popular software like wordpress that programming knowledge is not necessary.
There is a chance that the web design firm might suggest to handle the technical part of the site and include hosting costs to their services too.
If you decide to handle your website creation by your own then you might want to check if your hosting provider offers software like wordpress or joomla.
3.) Does the web hosting provider have good reputation online?
This a very important step and you can't skip it. Don't blindly trust the first review you find online. Search more on forums, facebook groups and other social media.
When you have read enough then you can make your own decision easier. Be skeptical when you see only excellent reviews and 5/5 stars from a site.
Every web hosting provider has positive and negative aspects.
4.) Is it a hosting provider or a reseller?
You should cross-check if you are dealing with a hosting provider directly or you are buying hosting services from a reseller.
The negative think is if that a reseller doesn't have a lot of control over the services he offers.
He relies to the original hosting company. If any technical issue arises you can't approach the support but he needs to do it for you. So try to pick hosting providers that can solve your issues fast since they own the equipment and resources needed.
5.) What types of hosting do they offer?
Hosting providers usually offer : shared hosting, vps hosting, dedicated hosting,cloud hosting and wordpress hosting.
In short shared hosting's meaning is that your site shares resources with other websites in the same server. VPS hosting's meaning is that your website is in the same server with other sites but with a proper software used, you have dedicated part of resources (such as cpu, ram etc).
Dedicated hosting's meaning is that a whole server is dedicated only for your site.
Cloud hosting's meaning is that multiple servers cooperate to store your website.
Wordpress hosting's meaning is that all the settings are optimized to increase wordpress sites performance.
6.) What kind of security measures they take?
Hosting servers and website owners are the number 1 target for hackers. They always try to get access on servers or find the login details of a specific website.
Your provider should have systems in place to be prepared for these attacks. Some measures that they can take is to detect malwares quickly and remove them. Or Preparing for Distributed Denial of Service attacks.
In that case a hacker sends a massive fake flow of traffic to a website so in some point real visitor can't access it or get an error message. It should also encourage you to use the best security practices. Such as setting a 2-factor authenticator and changing your password every 6 months.
7.) What resources each of their plan offers?
For example what is the maximum cpu, ram and disk space you can use. They should offer an easy table that compares their plans based on the resources they offer.
8.) What Bandwidth Each Plan Allows?
Bandwidth is the total exchanged data allowed between website visitors and your site within a certain timeframe.
For example if your site's size is 100kb and 5 people visited within 1 day then you consumed 500kb of bandwidth.
This metric is important since it will impact the number of online visitors your site can handle. If your site has a lot of images, videos and graphics will affect bandwidth usage a lot.
Some hosting providers claim that they offer unlimited bandwidth but this isn't always true. Ask them if it is real unlimited or some limits are applied after all.
9.) What is The Average Uptime?
Uptime is the average time that hosting servers are working correctly and they are connected connected on the internet. If the servers have problems then they will affect your site.
Your online visitors will receive errors or they will not be able to see the site on their browser. The industry standards for uptime is 99.9%.
10.) Do they Offer Free Trial?
The existence of free trial is a good sign. It means that your hosting provider is confident for its services. They believe that you will be satisfied and you will keep using them even after the trial period.
During the free trial you should test the hosting provider as much as you can. In terms of support responsiveness, server uptime and site's speed.
11.) Do they offer 24/7 support?
Customer support is so important for a website. Things can go wrong even in weekends or holidays.
You want a support that responds within a short timeframe and with technical knowledge. You need also to check what kind of support they offer.
You should seek of both 3 ways: live chat, email and phone.
12.) What is Their Refund Policy?
Some hosting providers can refund your total amount of money spent if you are unhappy with their services. Usually it is possible within a certain timeframe like 30 days. You should be aware that for some of their products no refund is possible.
Although they might offer refund for their hosting services they might don't do the same for a domain or ssl you bought from them.
13.) What is The Renewal Price For Their Plans?
Web hosting providers initially they offer a low price in the first term (like 1st year) and then they increase the price a lot for the next term. It should be clear what is the renewal price and if not you should contact with their sales or support department.
There are many cases that they can charge you a significant amount of money compared with your starting cost. A lot of people are surprised with those charges so it is better to know beforehand.
14.) What is the Location of Their Servers?
The location of the servers which will store your website are important for website speed. If the majority of your traffic comes mostly from a specific country or region then ideally the servers' location should be there too.
The difference in website speed might be only some milliseconds but still can affect user experience slightly. Most of web hosting providers offer servers in different locations around the world and they offer you the chance to choose.
15.) Do They Offer Free ssl?
Having an ssl makes your site more secure. Sites that use a ssl start with a https and you can see a padlock on the left side of your browser bar. That way people trust more your site especially if they will use it for financial transactions. Google has also stated that they use the presence of ssl as a ranking factor.
So even if you don't sell something in your site you should have a ssl installed for your site. Most of hosting providers offer a ssl for free for one or multiple websites. Some they charge per year or charge an one time fee.
16.) Do they offer a Free Domain?
Many web hosting providers offer for free 1 year registration for a new domain. Usually you need to spend around $8 – $14 per year for your domain.
This option saves you some money. The provider wants to keep you mostly as long-term customer that's why offers some freebies.
17.) What is the Renewal Price for their Domains?
Even if the first year is free , hosting providers will probably charge you for the next years. Check their pricing page to find out what is the exact renewal cost.
If you can't find that specific detail try to reach out their sales or support staff.
18.) Do They Offer Site Backups?
You can really mess up with your site's theme. As a result, your site can stop working properly.
Often backups from your hosting provider can save this kind of situation.
Although you can use some third-party solution to backup you site it is a good practice that your hosting provider offers backups too. You should find out how often they backup your site (Daily, weekly or monthly) .
19.) Can You Easily Upgrade/Downgrade?
If your site starts to receive a lot if web traffic you will need to upgrade to a more expensive plan. You should find out how easily you can move between the different plans of the same company without affecting your site's performance.
That applies too if you want to downgrade if you purchased an expensive plan but you didn't receive the traffic you expected.
20.) Do they Offer Dedicated IP?
When you use a shared hosting plan your site usually uses a common IP with other sites. If some other sites send a lot of spammy emails or they are using shading tactics they can affect you too.
It is good to know if you can purchase a dedicated IP in good price. Especially if you need to send/receive a lot of emails.
21.) Do They Offer Free Site Transfer?
If you have an existing website you should be able to transfer it smoothly. Most of the web hosting providers will offer that service for but others will charge.
You should know that detail beforehand. You should always confirm that there would be a minimum downtime for your site. Your new hosting provider should give you detailed instructions about the transfer so you don't make a crucial mistake.
22.) How Many Websites Can You create?
It is good to know that if you are willing you can host multiple websites by paying only for one plan. Most of hosting providers offer this option to their customers.
23.) What Are Their Payment Options?
The normal scenario here is that hosting providers offer all popular payment such as Mastercard, Visa , American Express and Paypal.
24.) Do They Offer Popular CMS Software?
If you are not tech savvy there so many free solutions (like WordPress) that help you to build a great website. You don't need to know coding and you can actually have thousands of options for your site's interface and features.
A good web hosting provider should offer most of the popular CMS (content management system). For example i use WordPress for building my site.
25.) Do They Have Cpanel or Some Easy Interface?
An easy interface even for total beginners is a great feature that you can enjoy. Ask from your hosting provider to show you how the interface looks like. All the options should be easily accessible and visible when you sign in.
Take a look how Cpanel looks like or an easy custom interface.
26.) How Many Email Accounts Do They Offer?
Emails are an important aspect of a website. Either for responding to your customers' questions or using for email marketing efforts.
You should ask or find out how many email accounts you can create. You should also check what is the storage capacity they allocate to you for email usage.
Emails don' t require a lot of storage capacity but it is always better to know your limitations.
27.) What is the Internet speed for their servers?
Your hosting servers should be connected on super-fast internet speed (1000mpbs)
28.) How many other sites are on the server?
If you purchase a shared hosting plan , your site will be stored in the same server with others. It is good to know how many sites this server stores.
That's all from me, please like, share this article if you enjoy my content.
---
Share
---
Comments
Leave a reply