15 Tips to Choose the Best Domain Name Registration in 2020 »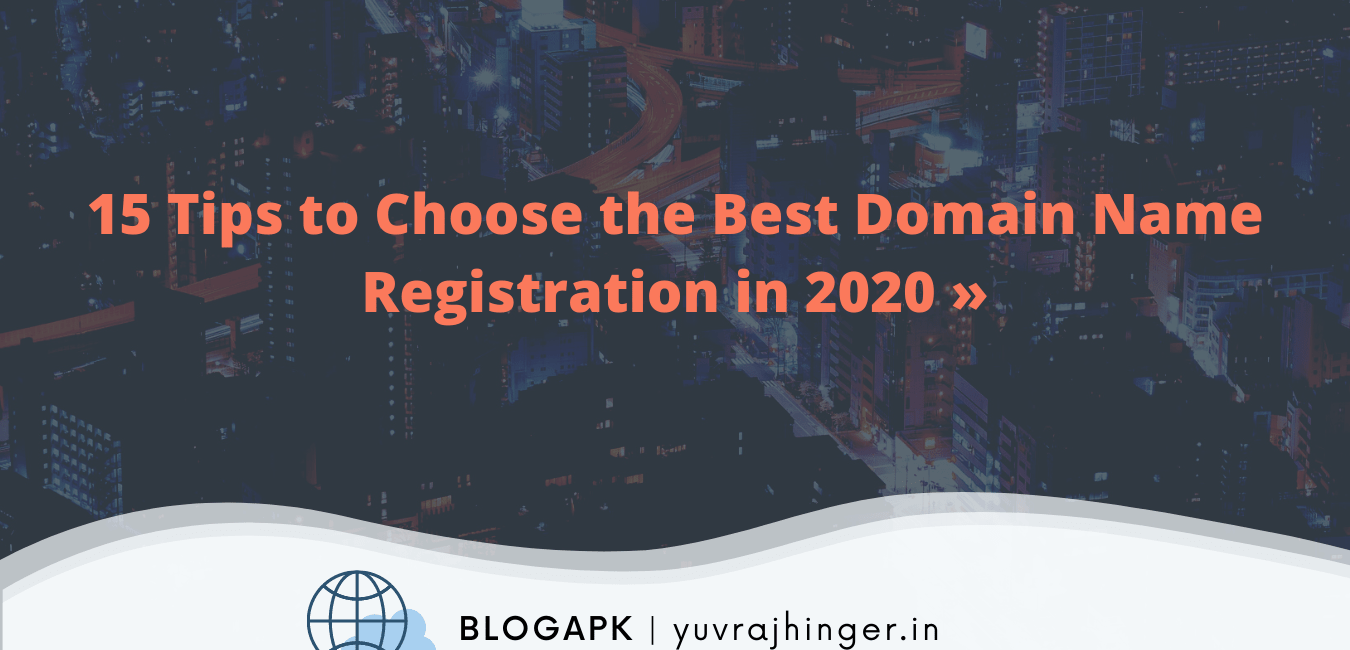 ---
Share
---
Introduction
In this article you will find 15 tips and tricks that will help you to choose the best domain name registration in 2020.
---
Support

Here is some example of very good selected domain.

The title is Online Kids Games and the domain is bestonlinekidsgames.com - just visit site to check it:
Let's start with the tips:
1.) Check if the company is really reputable.
Trust ICANN-accredited registrars only. Find out if they have a phone, email, and address. Some of the reputable domain registrars are Godaddy, Namecheap, Dynadot, and Namesilo.
There are so many companies that you can really use and register your domain names.
2.) Stick with .com because it is still the king of extensions.
I know that most of the good .com domains are taken but still, you can be creative. All other extensions made it more valuable.
An exclusion to that rule is if you are a mainly local business so it makes sense to choose a country code top-level domain such as .uk or .in.
3.) Add a prefix or suffix on your domain or mix 2-3 words.
That happens because as you will see many .com domains are taken, so you need to be creative. You can see some words that you can use before your main keyword or after that.
We 'll use some other sites that will help you with that process. One that I like is Domain Name Soup. They have so many options so you can play around, i will show just one.
With that option, you can use synonymous words and see which domains are available and take them or add suffix or prefix. Another good site is Panabee, you can see how it works here and it will really help you with the brainstorming process. Tip
4.) You need to consider that you 'll probably keep your domain name for many years.
So, don't focus only on the cheapest price for the first year. Whatever domain registrar you choose to use, check the renewal price.
Many companies promote a very cheap price for the first year but then this price skyrockets. Tip number
5.) Don't get frustrated by the upsells.
You don't need most of them and even if you do you can always add them later. Companies want to promote some other of their services since they don't earn too much from 1 domain registration. Here on Godaddy you can see some of the upsells. You can really un-select all of them and just move on.
6.) For me avoid to pay privacy protection if it is too expensive.
Most of the domain registrars offer free privacy. Like Namecheap, Dynadot, or Namesilo. I just want to mention that if you are an EU citizen your details will be hidden anyway.
And just for the records, in this type of sites people can find your details if you don't buy privacy and if you are not EU citizen. Usually, they want to sell you some service like web design (the people that search your details) so these emails are not harmful.
But sometimes hackers send you links in your email inbox and you need to be aware of this situation.
7.) You can always try to find a coupon online.
You can even check forums like that. Namepros is the best forum for domain names discussion. And you can check here some of the coupons available.
8.) Consider if you are planning to purchase one or multiple domain names.
If you are going to buy only 1 domain then the money you can save are not so much. Domain registrars usually offer better prices for the persons that manage a lot of domains.
9.) Transferring a domain is always very cheap.
Because the registrars want to attract new customers. So you can think that option if 1-2 dollars matter to you. And when the domain name is near expiration you can transfer it to a new registrar.
10.) Add extra security in your account.
Such as a 2-factor authenticator and don't rely only on username and password since they can easily be compromised.
If you use 2-factor authenticator, you use your phone to get an extra password and get access to your account.
11.) If you create your own word check how it is pronounced.
You can even use google translate. You can also search the word on google to see if that word has some bad meaning or is associated with something that you don't want your company to be related.
12.) You don't need to buy the extra extensions too.
don't need to buy the extra extensions too unless you are already a big and established company.
Only, in that case, it makes sense to have these extensions too. So you can avoid people that want to get advantage of your site's traffic.
13.) Check for trademark issues.
14.) You can't transfer to another registrar a domain name within 60 days of the initial registration.
Even if you don't like your current registrar you need to wait that time before you change. So, be aware of that rule. You can't do it something to change it.
15.) If you have the budget you can go for a good .com
Since it can help you with your marketing online efforts. You will probably keep that domain name for a lot of years so consider it as a great asset like a building.
---
Share
---
Comments
Leave a reply