Travel Guide: How to Travel in India | Best Places to Travel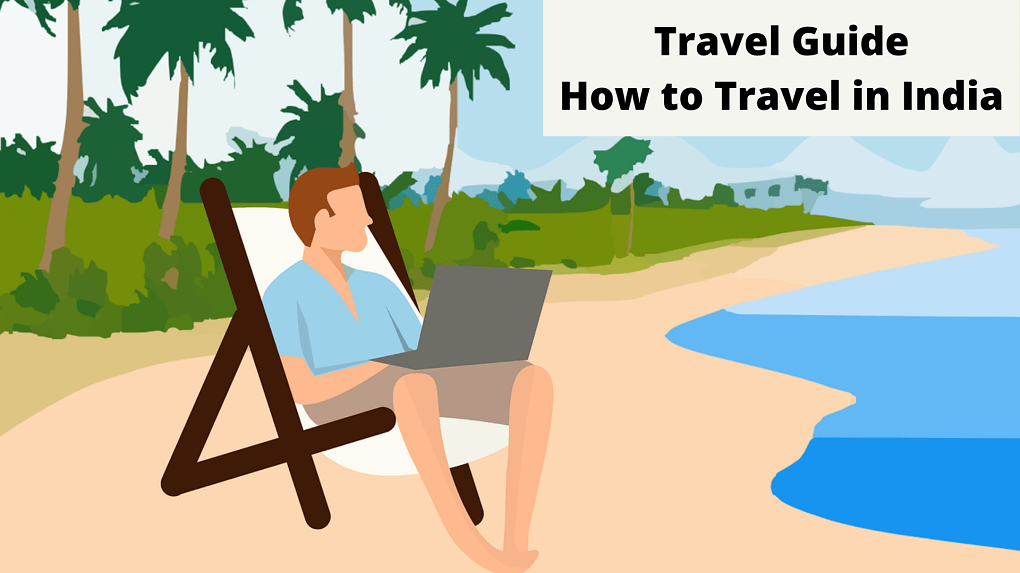 ---
Share
---
The six regions of India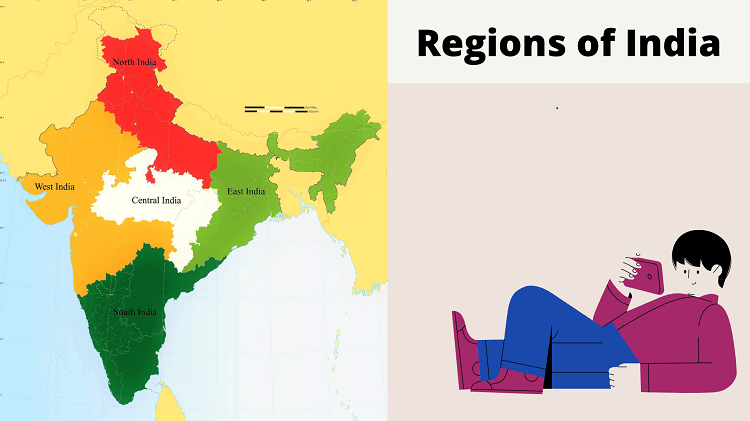 1. Central India
Central India consists of two Indian states: Madhya Pradesh and Chhattisgarh.
It shares a border with Rajasthan, Gujarat, Odisha, Jharkhand, Uttar Pradesh, Maharashtra and Telangana.
2. East India
East India consists of Indian states: Bihar, Jharkhand, Odisha and West Bengal.
3. North India
North India consists of Indian states: Haryana, Himachal Pradesh, Jammu & Kashmir, Ladakh Punjab and Rajasthan.
4. Northeast India
Northeast India consists of Indian states: Arunachal Pradesh, Assam, Manipur, Meghalaya, Mizoram, Nagaland, Sikkim and Tripura.
The region shares an international border of 5,182 kilometres with several neighbouring countries including Tibet, China, Myanmar, Bangladesh, Nepal and Bhutan.
5. South India
South India consists of Indian states: Andhra Pradesh, Karnataka, Kerala, Tamil Nadu, Telangana and Goa.
6. Western India
Western India consists of Indian states: Goa, Gujarat, and Maharashtra.
You might also read this one: Indian States with their capitals and Union Territories »
North India State: Rajasthan
Best Places to Visit in Rajasthan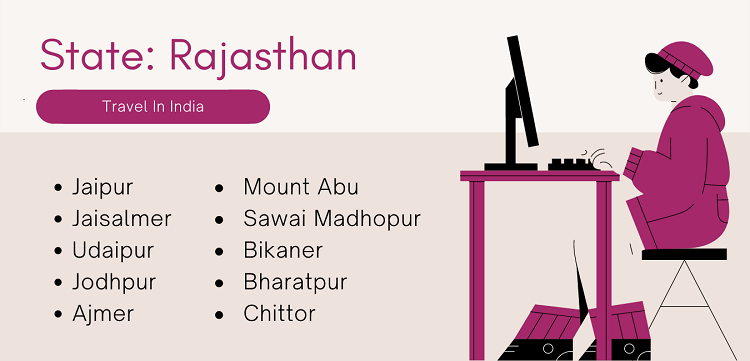 1. Jaipur
Jaipur is one of the important destinations in the country in terms of tourism, because tourists come from here not only from the country but also from abroad.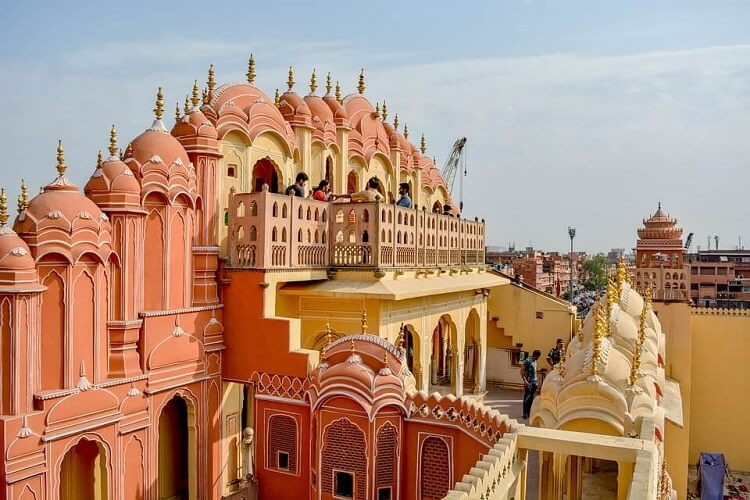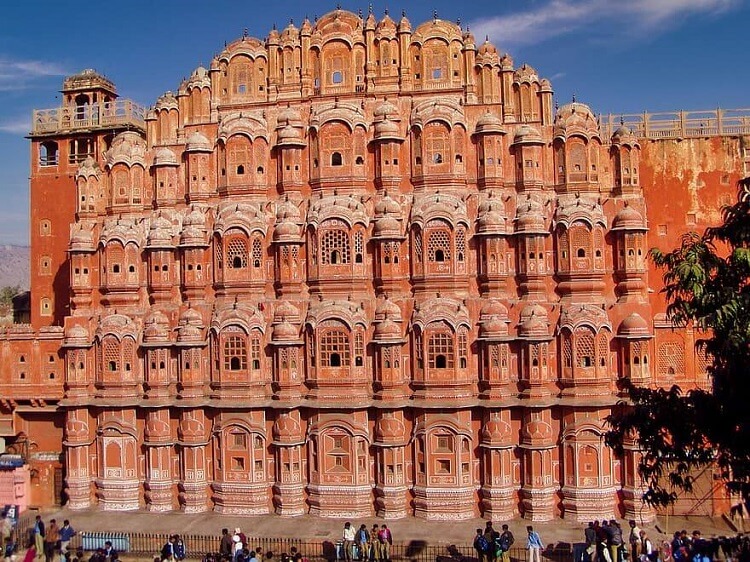 If you like to see the beautiful fort and love shopping hand-made things then Jaipur is for you.
2. Jaisalmer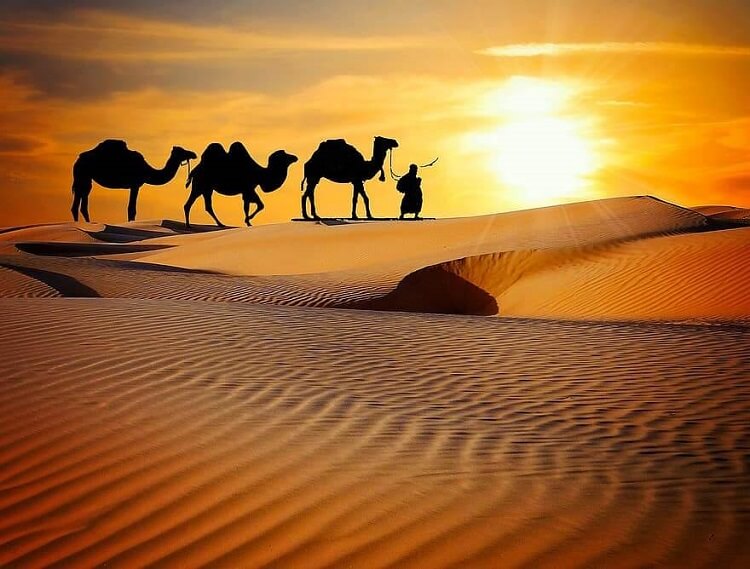 And now let's talk about Jaisalmer which is also called Golden City, this city has got its name from the name of Maharaja Jaisal Singh who is seen with great respect Jaisalmer known for fort, palaces and temples, Longewala War Museum, which can be seen is at some distance from here.
Jaisalmer Fort
The fort was built in 1156, Rawal Jaiswal was the founder of Jaisalmer city. He builds this fort in his time. The fort is also known as the "Golden Fort", the sonar killa. The walls of the fort are built of sandstones, the fort itself covers some museums, temples. restaurants, residentials, hotels, etc. The fort is in mid of the city or we can say most popular landmark of the city. Inside the fort there are some famous cannon view point which has a giant cannon situated there. The view of the whole city from that point is amazing.
This fort is known as Golden Fort. This fort was built by King Jaisal in 1156 A.D. The king who made it was "Jaisal" and this place was "meru" meaning Hill. They changed "Meru" to "Mer" and the town was named "Jaisalmer". There is only one way to enter the fort it has four gates first gate is Akhshya Pole second Suraj Pole third Ganesh Pole fourth Hawa Pole Dussehra Chowk is Kuldevi Mata's Temple. This is the first fort where king is out and public is inside.
You must not have seen such a fort King has moved to Mandir Palace in the city. This used to be King's throne. This used to be Kingdom's court This is the fifth gate of the fort .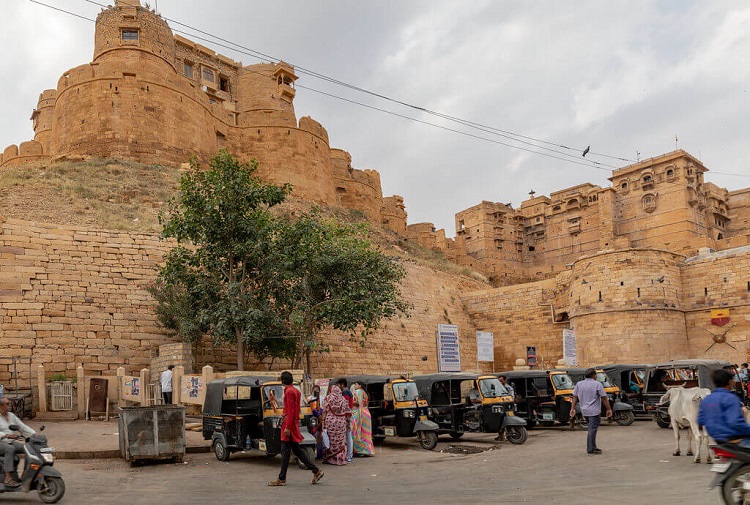 This place remains pleasantly cold all through the year because its roof is made of wood. Then grass and soil above it. There are some old traditions which are still being followed here In older times, people didn't have so much time and resources to deliver. So they used to paint Lord Ganesha's picture outside the house along with the names of Bride, Groom; relatives.
This did the work of an invitation card Nowadays both card and this way of invitation is used Only in Jaisalmer you can see this tradition. There are 2-3 such cannons in the fort.
Gadisar Lake
The lake from which we can see the fort, the boating is also being done in visiting times.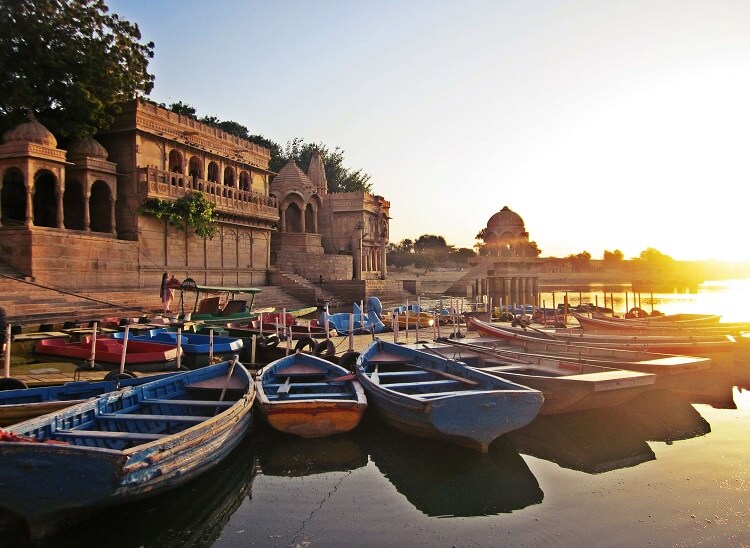 At the Lake shore, we find some peace in chaos. There are chattri inside the lake where some lightening also be glow up in evening. This lake was artificially built by the first Maharaja of this city - Raja Rawal Jaisal as a water reservoir.
Patwon Ki Haveli
There are 5 havelis build in series known as Patwon Ki haveli, the architecture of the haveli is unbelievable. From these haveli, the originality, the view, the proper Rajasthani vibe of Jaisalmer comes. The haveli comes in narrow lanes which is also in middle of the city as well.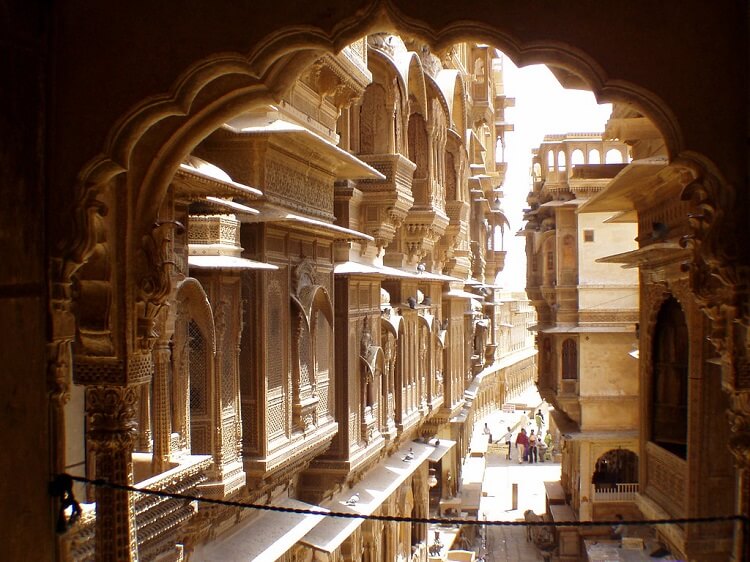 Patwa Haveli Patwa is neither a name nor a cast It's a title given by Jain people.
First building has a museum with 20 well decorated rooms Which shows all about lifestyle of patwa families And secret lockers to hide gold silver from theft. Second building is closed due to damage by heavy rain last year. Third building has textile shop Fourth building is the residence of Patwa family Fifth is empty and under government possession.
Sam Sand Dunes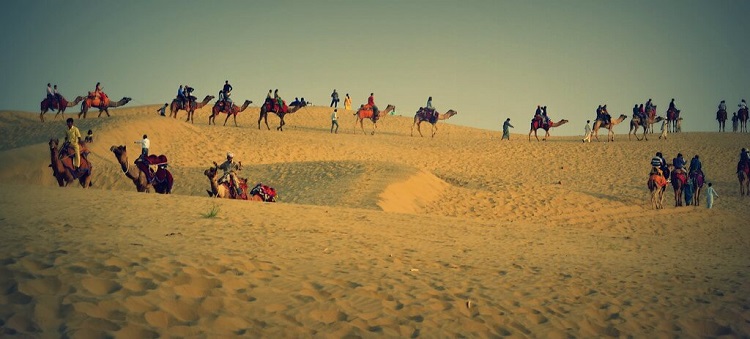 The place where each individual want to go once in life, in the desert: the jeep safari, camel ride, playing in the sand and the most lovable sunset view Sam Sand Dunes is the place where dunes are present and in winters the sand at there is cold as compared to summer.
Kuldhara Village
The kuldhara village is some kilometre far from the city, village is also known as the abandoned village because all the people who were living there leaves the village in one night and never comes back. And it is prohibited to go in the village at night due to security purposes.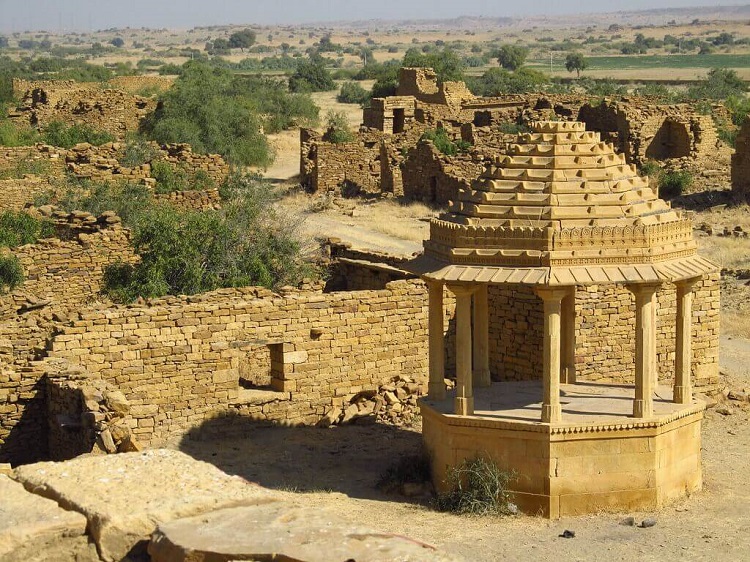 What is the story of Kuldhara village?
The story of an abandoned haunted village : Kuldhara - Ghost towns and villages hold a charm very different from the ruins of castles and fortresses, mostly because they supply us a chance to peep right into the lives of the people that once inhabited them. Set 200 years ago, it had been the story of a community who had vanished overnight, leaving a ghost village to narrate their tale. A haunted village called Kuldhara near Jaisalmer is that the centre point of this tale.
So today in Shorts entertainment we'll realize the town of india - Kuldhara. Lying 17km west of Jaisalmer, Kuldhara has a story. Some 300 years ago, it used to be a prosperous village of Paliwal Brahmins under the state of Jaisalmer. consistent with the legend, the evil eyes of Salim Singh, the powerful and debauched prime minister of the state, fell on the daughter of the village head and he desired to marry her by force.
He threatened the village with grave consequences if they didn't adhere to his wish. rather than submitting to the order of the tyrant, the Paliwals held a council and other people of 85 villages left their ancestral home sand vanished. But this wasn't all; before leaving, they put a curse on Kuldhara that no-one will ever be able to settle in their village thereafter.
To this date, the village remains barren; left almost the same as its inhabitants had left it centuries ago. it's also said that people who have tried to stay there within the dark are chased away by strange paranormal phenomenon. Many stories floated around. Some say the "chudails" or ghosts walked around within the night, haunting the place. Others say that no body lived here anymore as mysterious deaths have occurred.
Kuldhara could also be a desolate place with a forlorn look and convey sadness to the center when one thinks of those unfortunate folks that were forced to travel away the land of their forefathers. Paranormal Society of Delhi reached Kuldhara under the leadership of Gaurav Tiwari.
A brave team of 18 members decided to spend an entire night inside the village in conjunction with 10-12 people . The team spent 12 long horrifying hours inside the village and experienced some strange activities. From moving shadows, haunting voices to handim prints of youngsters on cars; the team members lived through one among their scariest nights. one among the members revealed that he felt some one touching his shoulder from behind.
When he turned back to ascertain who it had been , he found nobody . the most two observation they came up with The team used a highly sophisticated equipment to speak with ghosts and spirits. The equipment, named 'Ghost Box', was used to ask questions from the spirits. The spirits responded and even told their names.
The team had a K-2 metre device which is used to measure change in surroundings temperature. The device recorded a temperature of 41 degree Centigrade at one location and since it had been moved a few of steps ahead, the temperature instantly dropped to 31 degree Centigrade . The team used LASER rays and located unexplained moving shadows. Is it thanks to the eeriness of the place or the cool evening breeze of the desert? almost sure. But the legend and curse of Kuldhara definitely leave them intrigued. Kuldhara today is maintained by the Archaeological Survey of India as a heritage site.
3. Udaipur
Udaipur is considered as a royal city and it is also referred to as the city of lakes because there are many good lakes here like Pichola Lake, Fateh Sagar Lake, Udai Sagar Lake etc.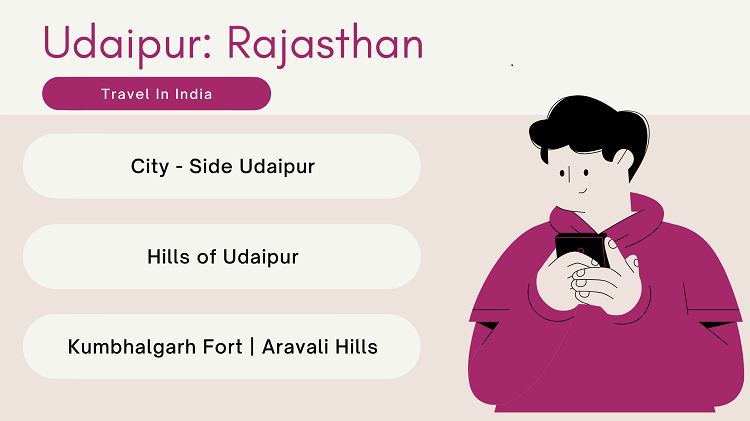 1) What Udaipur famous for?
2) Why is Udaipur called the White City?
3) Is Udaipur safe for tourists?
4) How can I spend 2 days in Udaipur?
Let's find out in this article.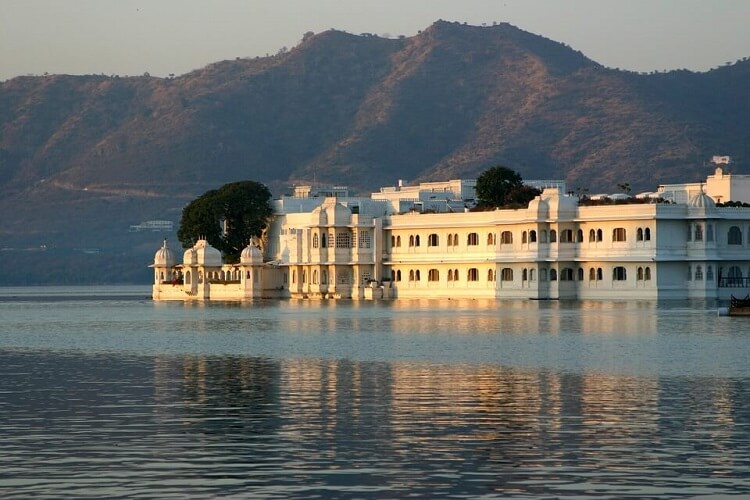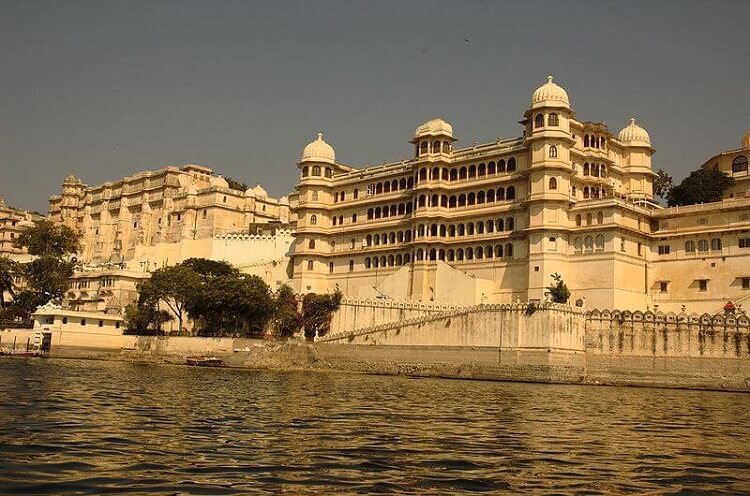 If you have an attachment to animals then you will love Animal Ad Unlimited. Unlimited Rescue Shelter, where the injured and handicapped animals are taken care of. Udaipur, otherwise called the "City of Lakes" is a city in the territory of Rajasthan in India. It is the memorable capital of the realm of Mewar in the previous Rajputana Agency.
It was established in 1558 by Udai Singh II of the Sisodia group of Rajput when he moved his capital from the city of Chittorgarh to Udaipur after Chittorgarh was assaulted by Akbar. It stayed as the capital city till 1818 when it turned into a British royal state, and from that point, the Mewar area turned into a piece of Rajasthan when India picked up freedom in 1947.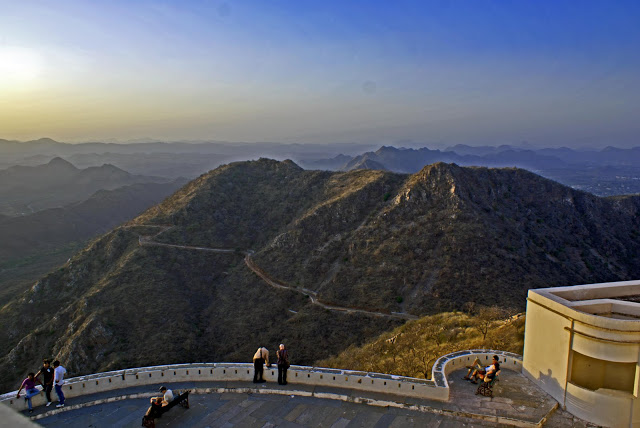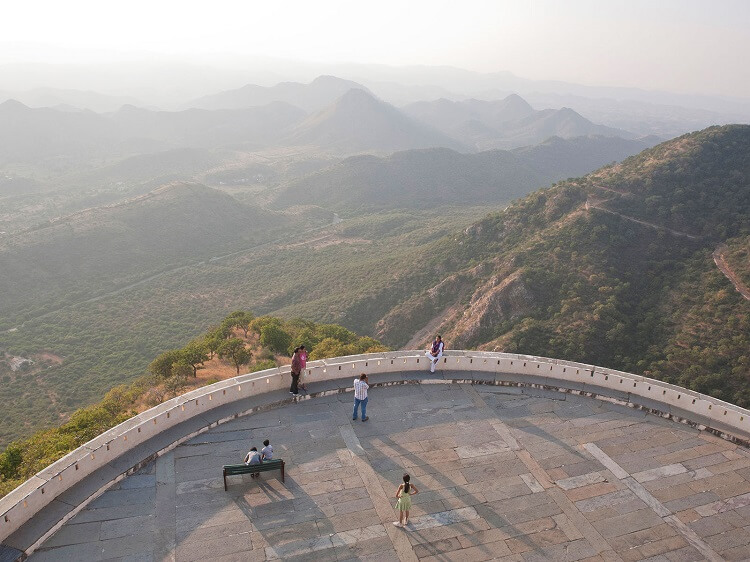 The city is situated in the southernmost piece of Rajasthan, close to the Gujarat fringe. It is encircled by the Aravali Range, which isolates it from the Thar Desert. It is around 660 km from Delhi and roughly 800 km from Mumbai, put nearly in the center of two significant Indian metro urban areas.
In addition, network with Gujarat ports gives Udaipur a key topographical bit of leeway. Udaipur is very much associated with close-by urban areas and states by methods for street, rail, and air transportation offices, including Maharana Pratap Airport. Normal dialects spoke incorporate Hindi, English, and Rajasthani (Mewari).
City - Side Udaipur
City of Udaipur, known as the City of the Lakes surrounded by lakes, and this morning we're starting things off a little bit of chai from the chai wallah here.
And we have a very interesting day planned. So we're going to go, first things first, to the lake around which the entire city is built. Well traveling in India is inherently chaotic, but the best way to get around all that chaos is a tuk tuk. Hello. They kind of just swerve around and get through any gap, not like there are really any rules of the road here in India. It's just kind of like... go for it! Well, the first destination of the day is the City Palace here in Udaipur. Udaipur is known as the White City, as you can see. A lot of buildings are painted white. Like many other cities in Rajasthan, it was once ruled by its own Maharaja, the Maharaja of Udaipur.
This is his palace, and we are going to go inside. Honestly, this has got some of the best souvenir shopping in all the world. The original bohemian style came from people who would travel to the east and bring back cool stuff, and this is literally like an emporium of awesome things.
There're leather bags; There're textiles; there're cool rugs. It's really cool.All these gates are big enough to let an elephant pass through because historically elephants were like the tanks of Indian armies. They were heavy lifting materials that could carry things, and they could ram doors.
So you see the gates right here actually have spikes on them, which was a defensive measure to stop elephants from charging and hitting the gates with their heads. Now we're inside the City Palace complex at Udaipur. This is one of the most magnificent buildings in all of Rajasthan, and it is the largest palace in the state. It was the capital of the Mewar Kingdom.
If you remember, we said Rajasthan means Land of the Rajas, Land of the Kings because there was about a dozen independent kingdoms throughout this whole land. And this was one of them. The Mewars were a warrior tribe. They fought off foreign invaders, most notably in a battle with Akbar. Akbar was from the Mughal Empire, and they were invading from around Afghanistan area.
This palace complex was built before that invasion because the local maharajah had been walking through this area and found a hermit who suggested that he change his capital here. It's actually a really good defensive location because it's surrounded by mountains, and it's right on this lake.
So it made it hard for foreign invaders to come in. Although they did lose the battle of Akbar, they became vassals of that empire and later the British. You can see that this building fuses Mughal, Arabic, Muslim architecture with Rajasthani styles. All right. Well our tour through the City Palace continues. Right now we're kind of like up at the top.
This is where the Maharaja used to kind of hang out, take in the view. It's extremely crowded nowadays. This is a very popular tourist site here in Udaipur, but it's easy to see why. This is the peacock.
This is the royal bird of Rajasthan, and you can see why because the maharajahs are definitely peacock with their style. They would go very ostentatious and flagrant. It's a good, really good style, but much like the peacock, they like to strut the stuff. Something that continues to happen to us here in India.
It's pretty funny. People would just walk up to you and ask for a selfie, or in our case, we were just sitting on the bench, and they just sat down in between us and they demanded.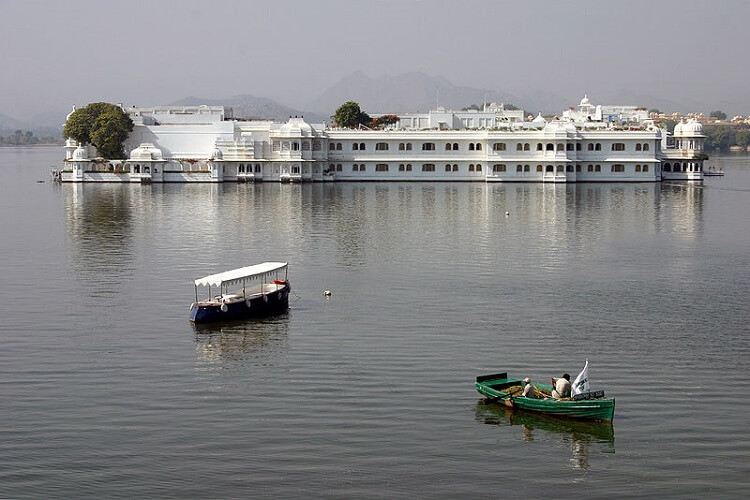 Lake Palace is also in count of one of the luxurious hotel, which is situated in middle of lake pichola. And apart from the pichola the whole city is covered with lakes like fatehsagar is also one of the beautiful lake to visit and have the jo pf it. the lake has its water exit and incoming gates from which the water outlests and goes in the different lakes one by one. When the lakes were overflow the water goes onside to the road and with it pour from gates with high pressure and the view is mismerizing.
Hills of Udaipur
Udaipur is the city which is covered by mountains from all sides. Indeed, we can feel the vibe of heaven here. As we know Udaipur is known as the Kashmir of Rajasthan. In Udaipur, there are many lakes are present though the city is also known as the city of lakes and Venice of East.
Apart from city side, there are some nostalgic places which are at the hills of mountains of Udaipur mainly covered with cloud in rainy season though going there in rainy season makes worth.
The Bahubali Hill
Bahubali hill is around 10 KM far from Udaipur city area and nearby Badi lake which always remains a centre of attraction among all the udaipurites and the visitors. Firstly, the place is known as Badi Hill later on named as Bahubali Hill. The Aravalli hill and the Badi Lake is surrounding this place.
We need to park our vehicle downside of the hill and by trekking of 5 to 10 minutes we will at the top of hill.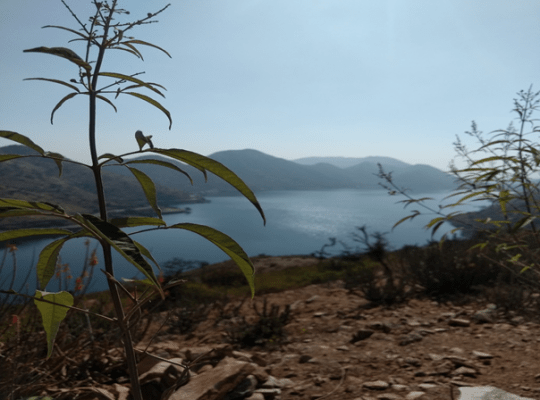 The place is so ideal for photography purposes as from here the sunset and sunrise seems to be magnetize us or asking us to come again. For the selfie lovers as it is a photogenic place and the can get a bunch of stunning photographs. But, while clicking the pictures, they need to be more careful because there are no fences which create a risk of falling or getting hurt from the hill.
Keleshwar Ji Mahadev
Keleshwar ji mahadev is the popular temple of Lord Shiva. It is in dense forest and almost 30 KM far from the city area though it has waterfall near by it which attracts the visitors most. So, they come here to darshan and for making their mood lite too.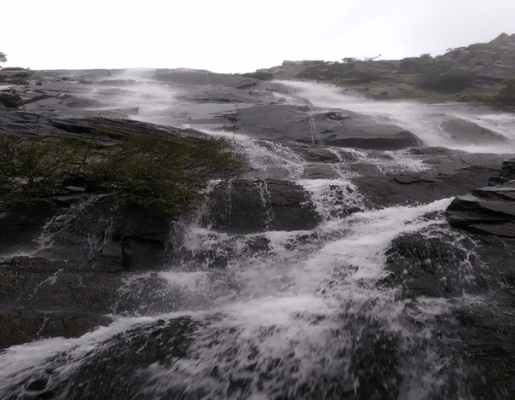 The most preferable vehicle to go there is bike istead car, etc... Although, if you are going there you can forgot anything but never forgot to take the polythene for non-waterproof gadgets if you want to save them from gettting damage. There is no signals and networks as well to contact and keep you stuffs with yourself only.
Ubeshwar Ji Mahadev
Ubeshwar Ji Mahadev is a temple of the Lord Shiva in the Udaipur city in the state of Rajasthan, India. This Mahadev temple is located on a green hill in the Ubeshwar,of Udaipur around 20 KM far from city area. It is a temple of the Lord Shiva, Within the premises there is a holy pond (Gangu Kund) for ritual bathing.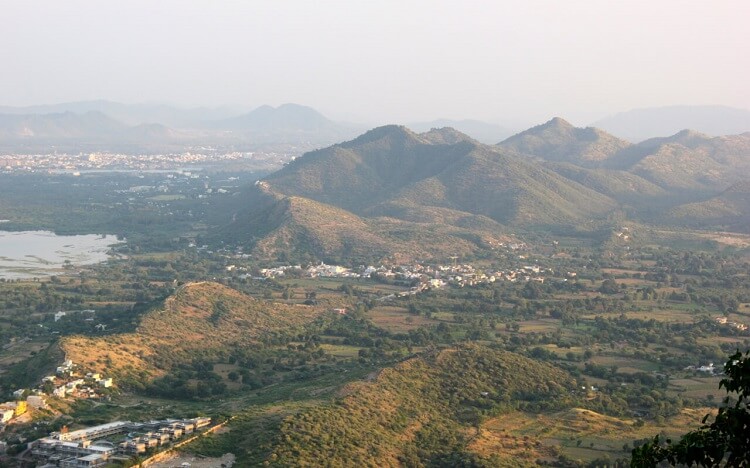 We can go there at any time and can also do camping at the hill side as in rainy season the hills are totally covered with the cloud and fog that it is hard to see in front. Thus, Ubeshwar Ji Mahadev is well defined as a picnic location with the natural views and landscapes combined with spiritual peace fulfilled by Ubeshwar Ji Mahadev Temple.
Kumbhalgarh Fort | Aravali Hills
Kumbhalgarh Fort could also be a mewar fortress on the westerly range of Aravalli Hills, within the Rajsamand district near Udaipur of Rajasthan state. It is a world heritage site. Built during the course of the 15th century by Rana Kumbha. Occupied until the late 19th century, the fort is now open to the public and is spectacularly for a few minutes each evening. Kumbalgarh is situated 82 km far from Udaipur by road.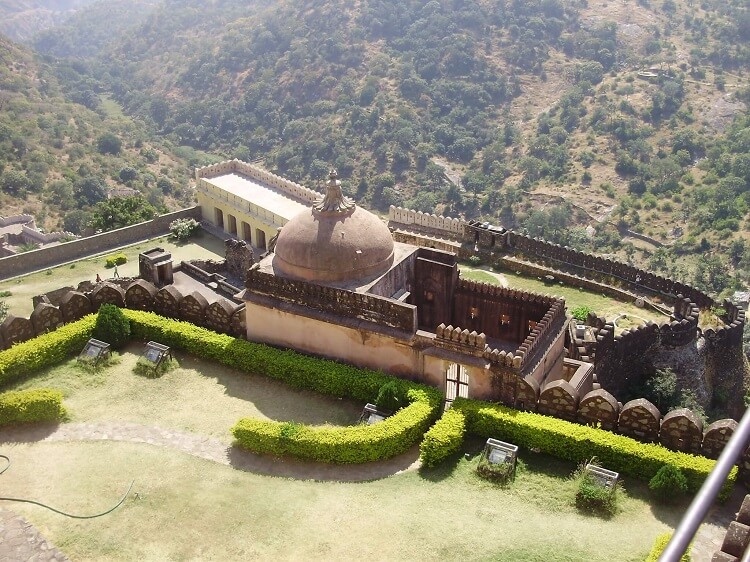 It is the foremost important fort in mewar after chittorgarh fort. Having witnessed an outsized number of wars, Capitol Hill is the boundary that's unbreakable. The fort that has seven fortified gateways and variety of Jain temples within it , along side the Lakhola Tank which is that the most famous tank inside the fort that was constructed by Rana Lakha. The fort consists of sort of Hindu temples and Jain temples that indicate the religious tolerance of the rulers and therefore the way they patronized the Jains and encouraged their culture in the kingdom.
HISTORY OF THE ATTRACTION
Kumbhalgarh is the birthplace of a famous Rajput ruler Maharana Pratap, and its interesting to note that I share the same day and month of birth with the Maharana of kumbhalgarh that is 9th of May, Kumbhalgarh has the famous Kumbhalgarh fort, which is the only monument that can be seen from space after the Great Wall of China.
The fort further consists of inscriptions on the foot of idols in Hanuman Pol that gives details of construction of the fort. The Badshahi Bavdi may be a stepped tank that was built by the overall of Akbar to supply beverage to the military troops in 1578.
The fort initially faced many problems during construction but was resolved by performing a person's sacrifice and therefore the main gate of the fortress which is that the Hanuman Pol, contains the shrine and a temple to thank and remember the good sacrifice of a warrior.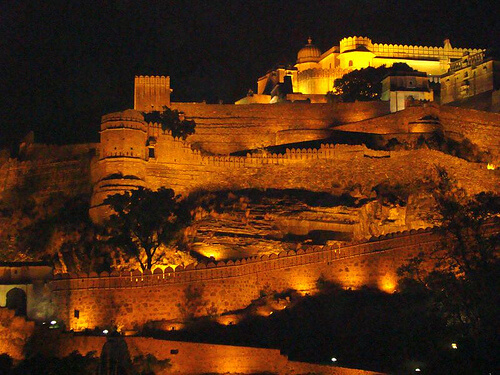 Kumbhalgarh Fort is one of Mewar fortes on the westerly range of Aravalli Hills, in the Rajsamand district near Udaipur city of Rajasthan state in western India. Kumbalgarh is almost 86 km northwest from Udaipur by road. And I would like to tell you the Kumbhalgarh Fort is among the largest Fort complex in the World, And 2nd largest Fort in India after Chittor Fort. And it's built on a hilltop. Approx 1100mtr which is almost 3600ft above Sea level on the Aravalli range. And it has perimeter walls that extended 36km approx 22mils which making it one of the longest walls in the World. Also, the frontal walls are 15ft thick.
This Fort has been built during the course of the 15th century by Rana Kumbha. His name is Kumbhakarna, popularly known as Rana Kumbha, Rana Kumbha was a son of Rana Mokal Singh. He was one of the great kings of the Mewar in western India, during his reign. He also made the Vijay Stambh at Chittar Ghar, Rajasthan.
You can see the view from the top of the Fort it's really very awesome and a very nice place, You must visit this place, at last, once in your life.
Even you can't believe there are approx 360 temples within the Fort, in which 300 Jain Temples and the rest Hindu Temples. In 2013, at the 37th session of the World Heritage Committee held in Phnom Penh, Cambodia, Kumbhalgarh Fort, along with five other forts of Rajasthan, was declared a UNESCO World Heritage Site under the group Hill Forts of Rajasthan, in western India.
I would suggest, you must visit the Kumbhalgarh Fort during the Rainy season or Winter season to feel much beauty in this place.
If you are at Kumbhalgarh don't forget to visit one more famous place Parshuram Mahadev Temple, which is approx 10km from the Kumbhalgarh Fort.
Parshuram Mahadev Temple, which is a cave Shiva temple located at the border of Pali district and Rajsamand district of Rajasthan state in India. In the picturesque hills of Aravali, The Parshuram Mahadev Cave temple was built by Parshuram himself by cutting the rock with his fence.
To reach this cave temple, you have to travel 500 steps. Inside this cave temple, there is a self-geographical location where Parshuram, the sixth incarnation of Load Vishnu, had performed rigorous penance for many years of Lord Shiva. On the basis of Austerity. And Its height is 3600 feet above from the sea level.
What to Do There
Plan to spend three to four hours exploring Kumbhalgarh Fort. There is quite a bit to see and some uphill walking is required, as vehicles are not permitted to go inside. The unforgettable view from the top of the fort makes the effort worth it, and the sheer size of the fort's exterior wall alone is simply nspiring. Guides are available at the fort entrance and you can expect to pay 300 to 400 rupees for one, depending on your group size. Alternatively, you can wander through the fort by yourself if you are not interested in its detailed history.
There are quite 360 temples scattered within the fort, most of which belong to Jain deities. You'll come across a cluster of temples after you go through the gargantuan main gate. From there, follow the paved path upwards through successive fortified pols (gates) to the fort's three palaces, at different levels. These are Kumbha Palace, Jhalia ka Malia (Palace of Queen Jhalia) where Maharana Pratap was born, and therefore the topmost Badal Mahal. A building housing several canons is another highlight.
The fort is especially spectacular around sunset and just afterward, when its structures are evocatively illuminated. Those who want to find out more about the history of the fort might want to remain on for the evening sound and lightweight show . There is no fixed starting time. The show begins as soon as it is dark enough. This could be as early as 6 p.m. or as late as 7:30 p.m. It runs for about 45 minutes. Tickets cost 118 rupees for adults and 49 rupees for kids.

4. Jodhpur
Jodhpur used to be an important fortress of the Mewar empire in times past and there are many attractive forts like Umaid Bhawan Palace, Mehrangarh Fort.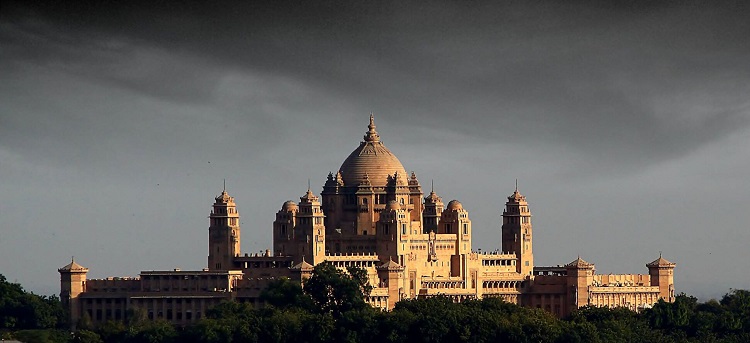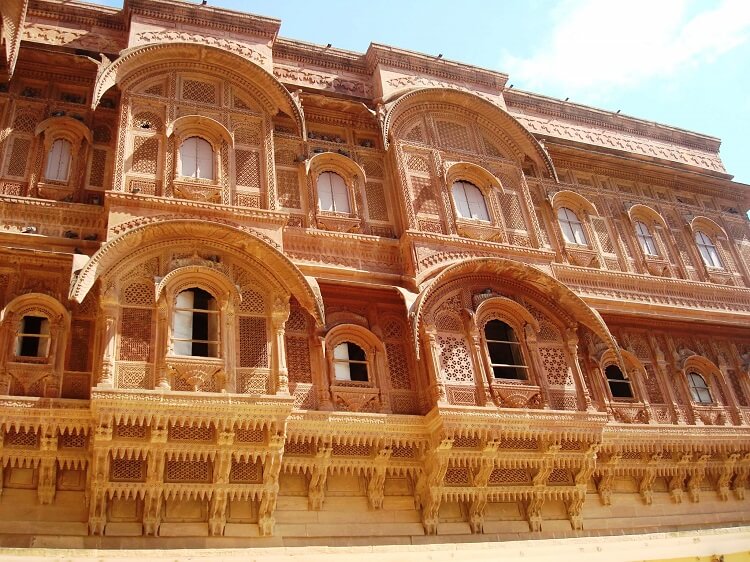 This city is also called Blue City due to its blue homes.
5. Ajmer
Ajmer is a religious significance town where the famous Sufi saint Khawaja Moinuddin Chishti ji's dargah is present, Dargah Sharif people come from far away and chadar for dargah and also visit this place for their desires to be fulfilled.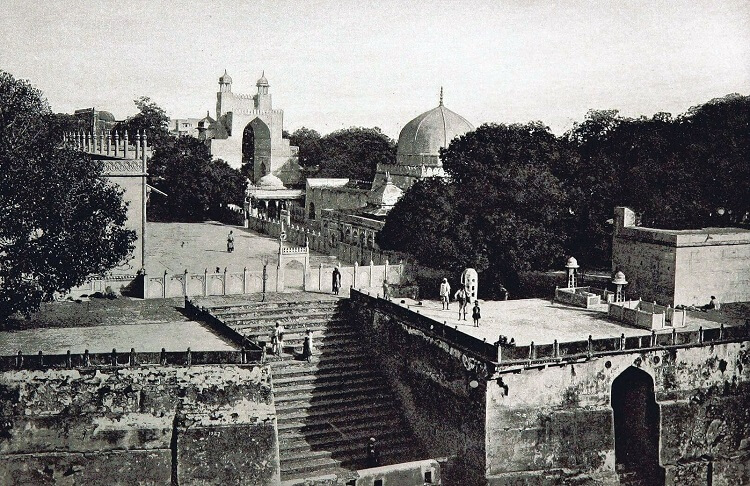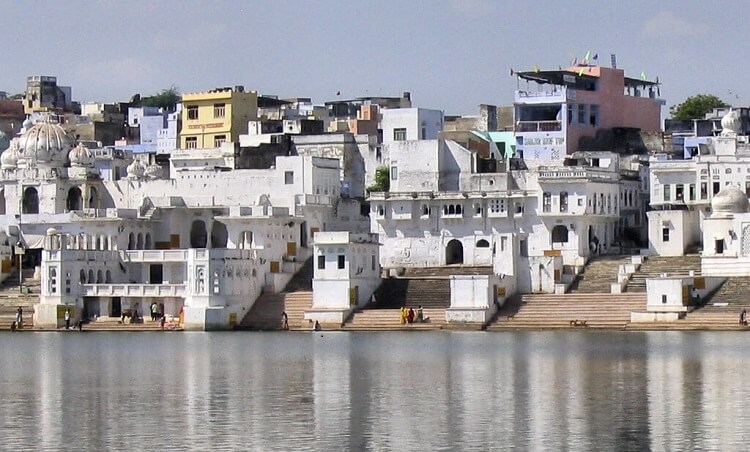 Just a few minutes away from this town, Pushkar also hosts India's largest cattle fair every year which is worth seeing.
6. Mount Abu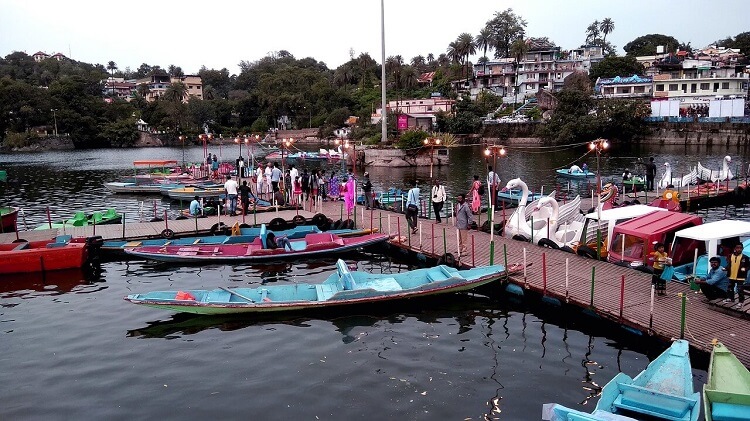 Mount Abu is the only single hill station of a big state like Rajasthan, if you want to go to some good place during the summer season then you can plan to go here Dilwara Temple, Nakki Lake, etc. can be seen here.
7. Sawai Madhopur
Now let us talk about Sawai Madhopur of Rajasthan which is popular due to the Ranthambore National Park near it. you can see tiger in Ranthambore National Park.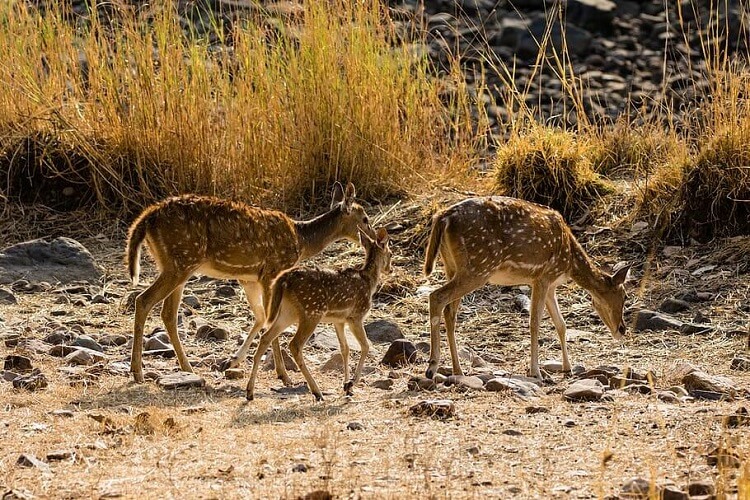 This place is also good enough to take photographs.
8. Bikaner
Bikaner is one of the important cities of Rajasthan which is known for its handicrafts and workmanship.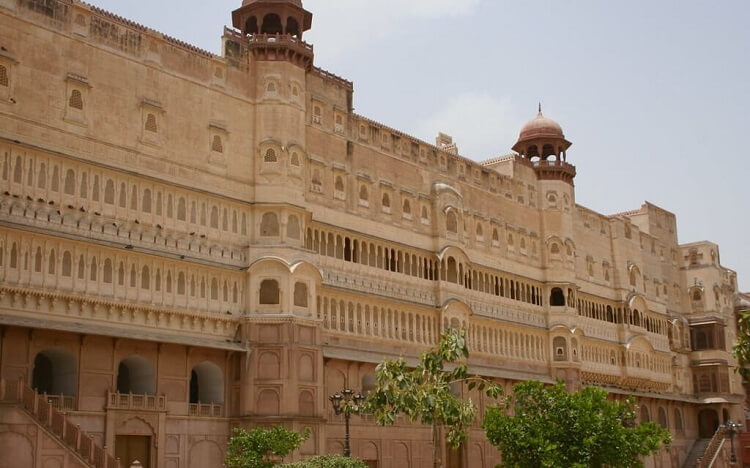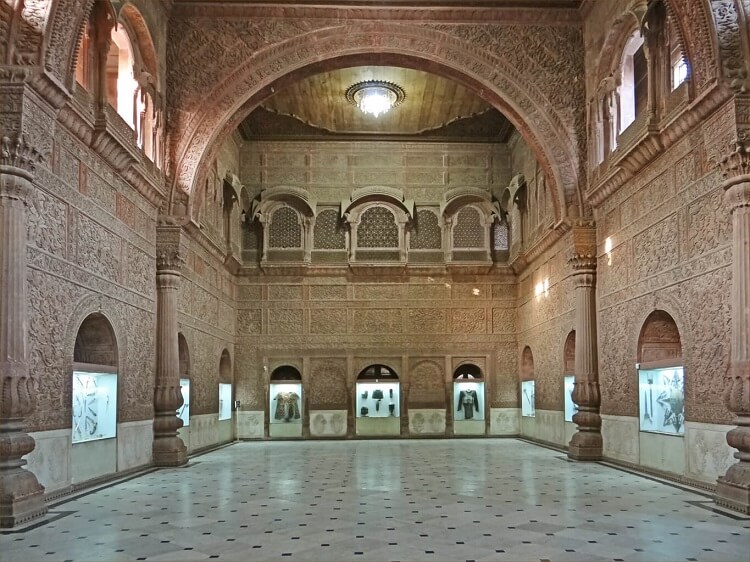 Many tourists visit the camel festival of Bikaner, in Bikaner, you can see Junagadh Fort, Lalgarh Palace and Karni Mata Temple.
9. Bharatpur
Bharatpur is often referred to as the eastern gate of Rajasthan. Bharatpur is most known for UNESCO World Heritage Site – Keoladeo National Park.
This place is quite good for bird lovers.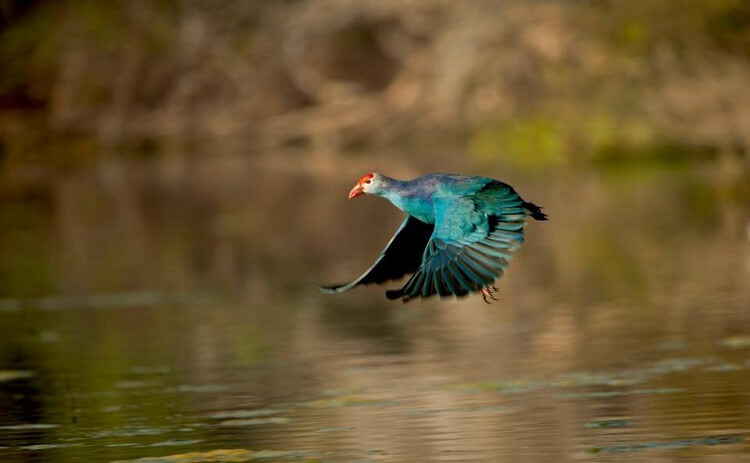 Here you can see Chittorgarh Fort, Fateh Prakash Mahal, Rana Kumbha Mahal etc.
10. Chittorgarh
Chittorgarh is an ancient city of India which was founded by the Maurya dynasty.
This city is also the birth place of famous celebrities like Mira Bai and Maharana Pratap.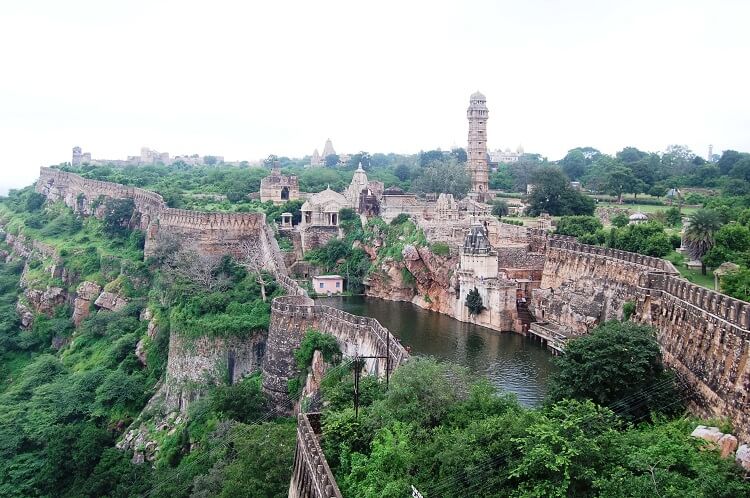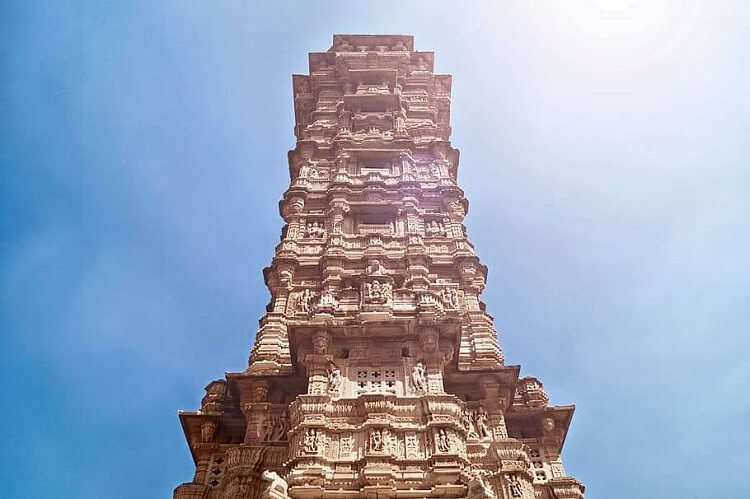 Here you can see Chittorgarh Fort, Fateh Prakash Mahal, Rana Kumbha Mahal etc.
You might also read this one: 10 awesome places to visit in the US
North India State: Himachal Pradesh
Best Places to Visit in Shimla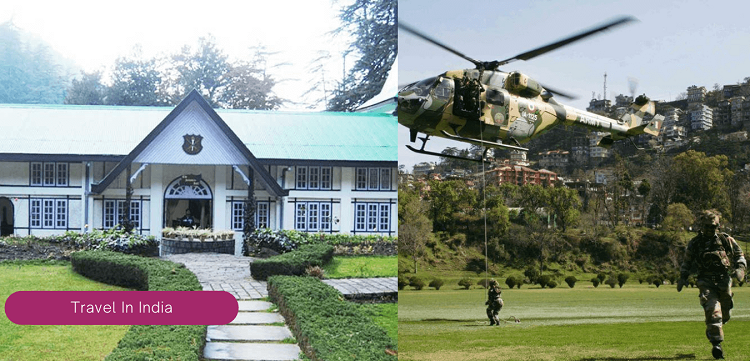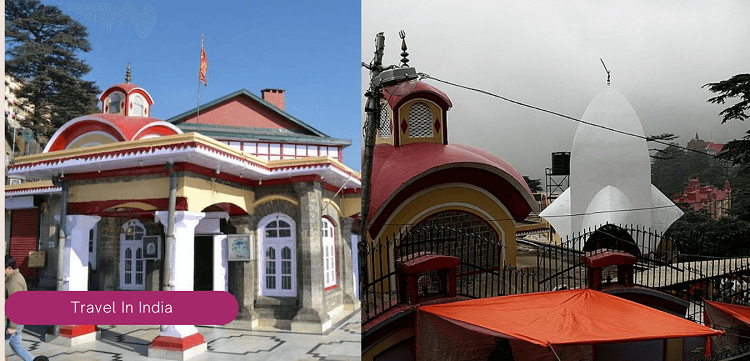 10. Annandale
It is an army area with an Army Heritage Museum It opens all days except Monday from 10 am to 2 pm and 3 pm to 5 pm It has no entry fee.
9. Kali Bari Temple
It is one of the ancient temples of the city and was originally built in 1845 It opens all days from 6 am to 7 pm It has no entry fee No.8 is Himachal State Museum It was built in the year 1974 It opens all days except Monday from 10 am to 5 pm It has entry fee of Rs.20 for Indians and Rs.100 for foreigners.
7. Indian Institute of advanced study
It was constructed between 1880 and 1888 It opens all days except Monday from 9:30 am to 5 pm It has entry fee of Rs.40 for Indians and Rs.85 for foreigners.
6. Summer Hill
It is on a hill and is part of the seven-hill cluster It opens all days from 6 am to 6 pm It has no entry fee.
5. Viceregal Lodge and Botanical Gardens
It is also known as the Rashtrapati Niwas It opens all days except Monday from 10 am to 5 pm It has entry fee of Rs.20 for Indians and Rs.50 for foreigners.
4. The Ridge
It is the hub of all cultural activities of Shimla It opens all days from 8 am to 6 pm It has no entry fee.
3. Christ Church
It is the second oldest church in North India, after St John's Church in Meerut It opens all days from 8 am to 6 pm It has no entry fee.
2. Mall Road
Mall Road has a number of showrooms, department stores, shops, restaurants and cafes It opens all days from 9 am to 9 pm It has no entry fee.
1. Shri Hanuman Mandir Jakhoo
It is dedicated to the Hindu deity Hanuman It opens all days from 7 am to 8 pm It has no entry fee Go to www.powerhouse10ph.com for more such exciting content on Entertainment, Travel, Fashion, Education, Gadgets, Sports, Automobile, PH Specials Check out link in the description.
Manali
Manali is famous place for trip and for couples to visit. Manali is surrounded with hiles,mountains, rivers and forests. And it is purely a place you should visit.So,lets start the blog with my experience and places you should visit.
1. Mall Road
Mall road is the street of market. It is a heart of manali city because everthing start with the mall road. It is a place where you will find food,clothes,traveller and many more.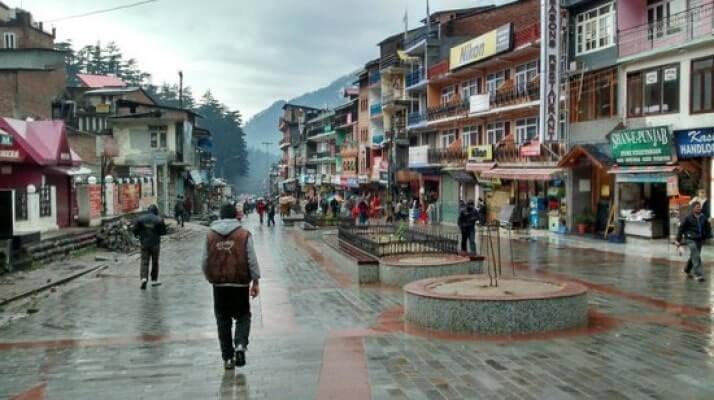 You will love the place once you visit the mall road and the best thing is you should visit the place in night so that you can see the beauty of that place.
2. Rohtang Pass
Rohtang pass is the only place where i enjoyed the most on the trip.It is the place full of snow on the mountains,nice sky with clouds or you feel above the clouds.You can slide on snow, make snow man ,make snow balls to through on friends and as you wish what you want to do it is up to you.
For walking and sliding on snow you need a snow suit and snow shoes to save your clothes and skin from cold snow. It is provided by traveller and whatever transport you are using.
3. Solang Valley
Solang valley is the place where you find more adventure than rohtang pass because it is another place of snow where you find more adventure. Here you find paragliding,skiing, rafting and many more.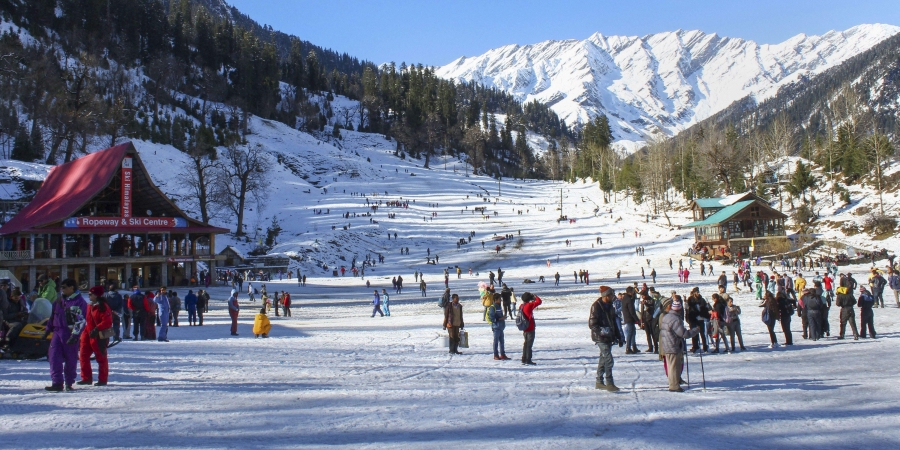 I don't have any personal experience because due to less time i am not visted there. But one of my friend share him experience and says he have too much fun there and also suggest next time to visit.
4. Hadimba Devi Temple
It is temple of hadimba devi which is also known as bheem's wife.It is place near mall road you can visit there by walking there.It is place on mountain .The way is between the forests and big trees.
On the temple surrounding you find people with rabbits and yaks ,you can click photo with them also you can seat on yak.
Some Tips for trip
1. Use less expensive hotels so that you can use them on your trip for foods and other things.
2. For visiting rohtang Pass use bus over personal traveller so that you can save money.
3. Don't forgot to eat momos on mall road.
4. Use more time to visit places over resting in hotels.

---
Share
---
You might also read this one: 100 Motivational quotes in hindi